Real Estate Appraisal and Consultancy Services for Transition to Turkish Citizenship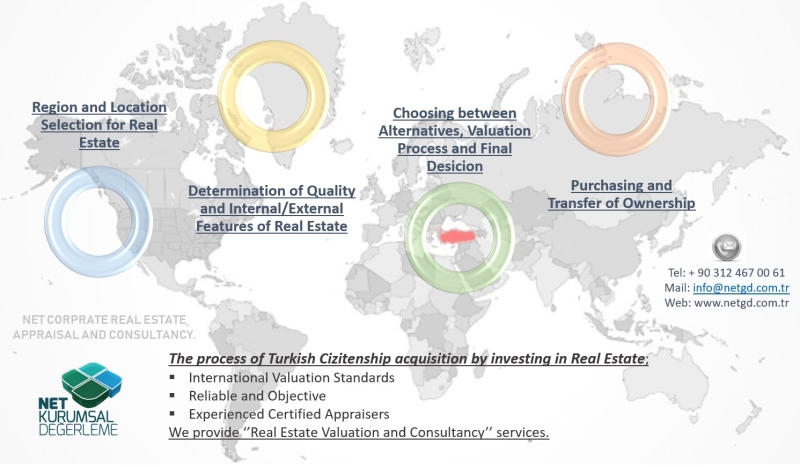 Pursuant to the Presidency of the Republic Decision Date 18.09.2018 and No. 106, the right of Turkish citizenship shall be gained by acquiring real estate property (Residence, Workplace, Office, Shop, Land, Field etc.) amounting to 250.000 American Dollars or its foreign currency or Turkish liras equivalent.
In order to benefit from the relevant law;

What should Foreigners Do and Consider in the Process of Purchasing Real Estate in Turkey?
There are several socio-economic, cultural, geographical and climatic conditions different from each other in our country, so selection of a region and location with characteristics suitable for you is highly significant.
Any real estate you would like to purchase should be classified according to criteria you want, this classification should be in nature completely satisfying your desires and expectations.
You should evaluate the alternatives presented to you by seeing them on site before purchasing any real estate
The important thing here is that the legal, physical and financial status of the real estate you are planning to purchase should be guaranteed with a Valuation Report prepared within the framework of international valuation standards by means of a Real Estate Valuation Firm authorized by Capital Markets Board (SPK) and Banking Regulation and Supervision Agency (BDDK).
The valuation report is made obligatory in accordance with the relevant regulation and also ensures guaranteeing the amount to be paid by you and your rights in the system.
You should collaborate with sector professionals in order to ensure performance of all procedures in legal framework transparently, safely and objectively.
Why Should Someone Invest in Real Estate in Turkey?
Real estate investment has been the most reliable investment tool in Turkey for years value change of which is positive and provides sustainable gain. For that reason, you do not suffer value loss in real estate purchase-selling.
It has an advantageous position when some factors like price, quality, life standards are compared with other country cities
The possibility of leasing is high depending on immovable property's intended use and location and so it provides regular revenue receipt,
As a result of the regulations performed in principles of reciprocity and lastly the changes made to ensure gaining right of citizenship by means of real estate acquisition, both attractive and high quality living standards are obtained compare to other countries for citizens of many different countries,
Real estates are components of a buoyant financial system because they can be considered for security,
Turkey is included in an economy in which many investment sectors are rapidly growing particularly tourism,
Turkey has a center of attraction location because it hosts many different cultures, it is the transition point between Asia and Europe with respect to its geography, and it is hosting existing and ongoing mega projects,
There are options which provide many social possibilities for both summer house and accommodation purpose with modern architecture and high quality luxury and technological construction types.
"With respect to Acquiring Turkish Citizenship by Foreigners with Minimum 250.000 American Dollars or equivalent foreign currency or Turkish Liras amount"
Frequently Asked Questions (FAQ)
1. What are some significant laws, regulations, directives and circulars in this scope?
[CIRCULAR] the Circular on "the Regulations on Implementation of Turkish Nationality Law" Date 15.10.2018 and No. 1791-2018/12 (General Directorate of Land Registers, Department of Foreign Affairs) >>> https://mevzuat.tkgm.gov.tr/BelgeGoruntule.aspx
2. Is there any restriction, obstacle during purchasing real estate or acquiring right of citizenship other than above specified official contents?
There is no obstacle in accordance with principles specified in the relevant law and regulations provided that there is no situation that poses an obstacle in terms of National Security and Public Order.
3. Can foreigners who purchased the immovable property before 19.09.2018 also acquire right of Turkish Citizenship?
Yes. Procedures are carried out based on 1.000.000 American Dollars and effective selling rate in calculations for the period before 19.09.2018.

4. Can any foreigner who wishes to acquire immovable property do payment on its own country's currency?
Yes. As specified in the regulations, payment can be made in American Dollars or equivalent foreign currency or Turkish Liras. If there is an acquisition before 19.09.2018, Republic of Turkey Central Bank (TCMB) effective selling rate shall be based on, if there is a property acquisition after this date the effective selling rate and/or cross currency rate (in a way favorable for the claimant) shall be based on.

5. Is any restrictive annotation attached on the immovable property during the course of purchasing?
Yes. The annotation "there is a commitment not to sell in 3 (three) years" is attached in scope of the relevant regulations beginning from the date of acquisition of the real estate.

6. Can someone purchase more than one immovable property in order to gain the right of Turkish Citizenship?
Yes. More than one immovable property amounting to a value equal to or above the amount specified in the relevant regulations articles may be purchased. Separate procedures are performed for each title deed.

7. Can foreign national real persons acquire residence nature immovable properties in this scope?
No. Persons who want to benefit from this law may acquire not only residences but also different nature immovable property (Land, Field, Shop, Office, Workplace, Factory etc...). These acquisitions shall be performed to the extent permitted by the Republic of Turkey. It is obligatory to develop a project and make this approved by the relevant Ministry in 2 (two) years beginning from the date of acquisition with respect to unstructured real estate (Land or Field Area) by foreign nation real persons.

8. What are the legal restrictions in real estate acquisition?
A foreign nation real person may purchase maximum 30 hectare immovable property and acquire limited real rights throughout the country.
The matter whether or not the immovable property is located out of military forbidden and security zones should be queried to the authorized command by the Directorate of Land Registry and positive answer should be obtained for acquisition.
Foreign nation real persons may obtain immovable property and restricted real rights up to 10% of the surface area of the district concerned in private property.
Any immovable property that is acquired in contradiction with the law provisions; its use contradictory to intended acquisition is determined by the relevant Ministry and administrations; about which the relevant Ministry has not been applied in proper time or projects are not performed in proper time in purchases with project condition are subjected to liquidation provisions.
9. Is it obligatory to reside in Turkey in order to purchase real estate in Turkey?
No. any precondition of having obtained residential permit is not searched for acquisition of real estate by foreigners in Turkey.
10. Which country citizens may acquire real estate in Turkey?
Detail information can be received from the Republic of Turkey Embassies/Consulates and General Directorate of Land Registry and Cadastre and Directorates of Land Registry.
11. Where is the transfer of real estate performed? Is it possible to acquire ownership by means of preliminary sales contract?
Transfer of real estate is possible with official authenticated contract and registration to be signed in Directorates of Land Registry. It is possible to sign a "preliminary sales contract" before a notary public. However it is not possible to acquire ownership of a real estate by means of a "preliminary sales contract" signed before a notary public or an external sales agreement.

12. Can any foreign national real person purchase real estate without being present in Turkey?
Yes. Any foreign nation real person may perform such procedures by giving a power of attorney. Any power of attorney to be submitted by a notary public should be appropriate. If the procedure is performed with a power of attorney issued abroad, original or approved copy of the power of attorney is necessary with its translation.

13. What is the cost of property transfer and Title deed acquisition of a real estate?
Title deed fees are paid by both purchaser and seller based on the sale price provided that it is not lower than "Current Real Estate Value" specified by the relevant Municipality. (Title deed fee is equal to 2% as specified in accordance with Act of Fees No. 492)
The circulating capital fee specified locally is paid. (Maximum 103,5 x 2.5 Turkish Liras for 2018)
The service fee is collected by the directorate of land registry as a fixed fee in addition to circulating capital amount specified during and for the transaction in transactions ownership of which gives rise to transfer debt as performed in accordance with article 35 of the Land Registry Law No. 2644.( 483,5 TL for 2018)
14. How is the valuation performed for a real estate intended to be purchased?
Valuation of the real estate should be made by preparation of a real estate valuation report that indicates the market value approved by a valuation agency authorized by Capital Markets Board (SPK) and Banking Regulation and Supervision Agency (BDDK).
The valuation report is among the documents required to be submitted to the relevant institution with sale procedure official deeds and registration request documents.
If the request is related with an acquisition occurred before September 19 of 2018, then the calculation shall be made based on TCMB effective sale rate, if the acquisition occurs after this date, the calculation shall be made based on effective sale rate and/or the cross foreign currency rate in a way that is favorable for the claimant.

15. How is the real estate price transferred in applications?
The sale price transfers should be performed via banks, and authenticated with statements approved by the bank that the price outflows from purchaser account and deposited in seller account.

16. Is there a situation of being purchased from another foreign nation real person?
The real estate(s) concerned in the acquisition in this scope must not be registered in the name of any foreign nation real person including spouse or children of the person and they must not be among real estates transferred by the person, his/her spouse or children after date of 12.01.2017.
The Issues Required to be Considered while Purchasing Real Estate in Turkey and the Significance of Valuation Report
Foreign nation real persons who want to obtain the right of Turkish Citizenship by means of real estate purchase in Turkey should primarily work with people and agencies specialized in their field. Determination of up-to-date market value and other quantitative aspects of an immovable property should be made by a professional in our country that has a highly variable value map. This service is performed by the experts who hold Real Estate Valuation License granted by the Capital Market Licensing Registry and Training Institution upon the approval of valuation agencies authorized to serve by SPK and BDDK in Turkey.

Any foreign nation real person who will purchase real estate should first of all receive this service in a CONFIDENCE environment. The experts to be consulted should be EXPERIENCED PROFESSIONALS who act TRANSPARENTLY and OBJECTIVELY in every point of the process both in terms of ETHICAL rules and in TECHNICAL scope.

Not only foreign nation real persons but also Turkish Citizens should make prepared a comprehensive real estate valuation report signed and approved by licenses experts which include real value of the real estate intended to be purchased, market conditions, whether or not some restrictions negatively affecting disposal of the real estate are existing, if exist what kind of an effect they create or how they can be cancelled, determination of the existing situation with respect to legal status of the real estate, existence of any contradiction, determination of the situations which may positively or negatively affect the value and indeed most importantly whether or not the real estate being marketed is the same with the real estate intended to be purchased, in other words location detection for the right real estate and many other important analyses.
A Real Estate Valuation Report prepared in compliance with the International Valuation Standards gives the answers of the questions "How the Real Estate is Legal? And What is its Physical situation? And What is the Real Value?" to the person who will purchase the real estate. The most critical question for the claimant here is the one "Should I Purchase this Real Estate?" They can find the answer for this question easily in the valuation report.

The real estate acquisition considered as the greatest investment tool by individuals across the world is a very significant and care demanding process. Real estate is not just composed of a value. It must satisfy all legal conditions and it should have no restrictive situation in order to mean a value in real sense. In short, it must be a proper real estate that can be concerned in security and used in economy.

Real Estate Valuation and Consultancy firms do not only consider above specified criteria. They develop projects under the existing zoning situations and conditions. They perform feasibility analysis for the project and submit the most effective and productive usage analysis. They perform goodwill efforts, region and market analysis according to nature of the real estate. They make valuation of not only accommodation purpose residences or business purpose office/bureaus but also income-generating properties. The said firms also perform studies including different analyses such as potential revenue generation in existing economic conditions, cash flow as a result of appropriate standards and methods etc.

You must definitely request copies of authorization documents and specialization license certificates from the agency you receive valuation service.
You should definitely make prepared a Valuation Report in order to purchase the Right Real Estate in real value, collaborate with experts experienced in their field and obtain professional consultancy in this process.
Why should a "Valuation Report" be prepared before Purchasing any Real Estate?

Real estate valuation reports prepared by the valuation firms authorized by SPK and BDDK are recognized in Turkey. The firm seal/stamp must be printed with the signatures of "Valuation Experts" and "Competent Valuation Experts" holding the license granted by the Capital Market Licensing Registry and Training Institution in the reports to be prepared in scope of the international valuation standards and country legislations.
Determination of up-to-date market value of real estate(s) intended to be purchased by using the right analyses and standards
Determine whether or not the real estate(s) intended to be purchased are the same with the ones marketed, official accuracy of their location and position
Determination of legality status according to nature of the real estate(s) intended to be purchased
Determination of the existence of legal restrictions, sale capabilities of real estate(s) intended to be purchased, and situations which may negatively affect their disposal
Determination of contradiction with the legal legislation in real estate(s) intended to be purchased if exist and effect of these situations on the value, legal and current situation analysis
Calculation of turnaround period of the real estate(s) intended to be purchased to investor under current economic conditions, income-revenue analyses in case of an income generating property
Determination of retrospective market value of purchased real estate as of its date (date of acquisition)
The articles mentioned above are the main issues explaining why a valuation report should be issued by foreigners. A real estate valuation report must be definitely made issued by valuation firms authorized to perform value and status establishment of real estate reliably.
NET CORPORATE APPRAISAL and CONSULTING, INC.

Having been established in Ankara on 08.08.2008 in order to provide real estate valuation and consultancy service, our company named NET Corporate Appraisal and Consulting, Inc. was included in the "Board List" of the Capital Markets Board in November 2009, in accordance with the board communiqué Serial: VIII, No: 35. Our company has been also granted the authorization to provide "real estate, real estate project and real estate based rights and benefits valuation" service for banks by the Banking Regulation and Supervision Agency with the decision date 11.08.2011 and No. 4345.
NET Corporate Appraisal and Consulting, Inc. fast and timely fulfills real estate valuation demands of public enterprises and institutions and local/foreign investors, real and legal entities by Valuation Experts employed permanently and contract based within independency, neutrality and privacy policies with the motto of corporate and social responsibility conception.
NET Corporate Appraisal and Consulting, Inc. provides Valuation and Consultancy service with objective and transparent, effective knowledge and experience in International standards with approximately 60 Permanent Staff Valuation Experts and about 250 Contract Based Valuation Experts in 81 cities of Turkey including Antalya, Manisa, Kastamonu, Bolu, Afyon, Adana, Kayseri and Yalova to 7 Regions in total including Istanbul, Izmir, Bursa, Konya, Mersin, Trabzon and Diyarbakır, with its head office located in Ankara. Moreover, it keeps serving for both Turkish and foreign investors in many subjects with the reports issued in international standards abroad.
Real Estate Valuation Study Areas of Us
Zones or non-zoned Lands (Land, Vineyard, Garden, Field, Field Area etc.…)
Residences and Workplaces (Apartments, Detached Building, Pavilion, Mansion, Shop, Office, Bureau etc.…)
Commercial Purpose Structures (Workplaces, Plaza, Shopping Centers …etc)
Industrial Nature real Estates (Every Kind of Factories, Production Facilities, Workshops, Warehouse, Hangar, Manufacturing House)
Energy and Fuel-oil Facilities (Gas Station, Refinery, Fuel-oil Storage Facilities, Hydro-Electric Power Plants, Solar Energy and Wind Energy Power Plants etc...)
Real Estates Used for Service Purpose (Hospitals, Policlinics, Schools, Dormitories, Carpark, Sports Facilities)
Tourism Purpose Real Estates (Hotel, Motel, Pension, Holiday Resort, Accommodation Facilities)
Marina, Shipyards and Ports
Mass Housing Valuations
Logistic Used Structures
Entertainment Facilities and Theme Parks
Highway Rest Establishments
Special Purpose Properties
Mixed structures (Assets like Machinery, Equipment, Port, Shipyard in nature of Supplement and Attachment), complex facilities composed of structures in different nature constructed on a single or several parcels
Other Valuation and Consultancy Services Provided
Machinery and Equipage Valuation
Urban Transformation Valuation Services
Mine and Underground Resources
Feasibility Study
Investment Analysis and Decision
Project Development and Goodwill Studies
Zoning Peace Consultancy
Valuation and Consultancy Service to Acquire Turkish Citizenship within the framework of Real Estate Acquisition
Use the following links to download this page in .pdf format: